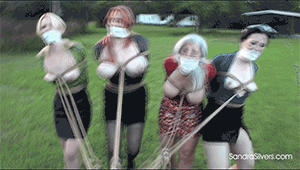 20:58 video
November 26, 2015
4 Topless Secretaries, Tied & Taken Away in the Van! A Blond, Redhead, Brunette & Silver Hair!
A buxom, shapely silver-haired MILF or a pretty, fit blond? Maybe something in a tall, leggy, big-titted redhead, or perky, curvy brunette? One of each? Delivered? No problem."
The quivering quartet strain against the ropes. All four have had their arms restrained tight behind their backs and and their tits tightly tied. A rope tether is attached to each of them and they are dragged into the warehouse. Each struggles furiously as, one-by-one, they are placed in the cargo van and their legs are tied. Vetwrap gags. mouth stuffing. With a loud slide and bang, the doors close, sealing them in. The engine roars to life and the van pulls away. At least they'll be together for what awaits them...