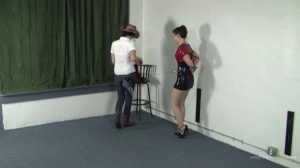 6:16 video
March 13, 2019
Serene Isley has a fantastic new bondage site: www.SereneIsley.com. Take a peek at this super-sexy video from her :-)
Cowgirl Belle is dressed in tight jeans, tan cowboy boots, a white buttonup shirt, and cowgirl hat. She has decided to try her luck at training something other than horses. She has me dressed in a short black latex mini skirt and red latex top, my arms harnessed up my back, 6" strappy high heels on my feet, pantyhose, and a leash clipped to the belt so she can drag me along. When I refuse to play along, she grabs a flogger and swings it at me, smacking my ass and directing me to walk in a circle. I'm apparently not walking fast enough so she strikes me again causing me to speed up.

Belle moves the leash to a side clip of the belt and gets back to telling me to prance. She swings the flogger over and over while I squeal and try to run from the leather straps. When I ask her where she came up with this idea, she decides that there is far too much talking going on and pulls me back over to the stool in the corner. She shoves a huge 2 ball gag in my mouth and straps it tight behind my head. I beg her to let me go, humiliated by having to run in a circle or get struck with the flogger. She makes things worse for me though. She adds a rubber strap to my thighs, just above my knees hobbling my stride. She drags me back out and forces me to walk the circle, claiming she's going to keep me on a short leash with a big gag. As my speed increases, my skirt rises until most of my ass exposed and only protected from the impact of the flogger by my nude pantyhose. By the end, I'm so tired and it's so hard to keep running in the circles in my hobbled state but every time I stop, I feel the sting of the leather whip again.