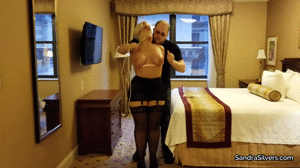 21:12 video
March 16, 2019
MILFy Manhattan Socialite Grabbed, Gagged and Groped. Breasts Bound and Hogtied – All On Screen!
Sexy silver haired socialite Sandra was surprised by a burglar bursting into her Manhattan apartment, he grabbed her arms and bound her wrists behind her, a cleave gag tied between her teeth. Now we see the hulking harasser bringing her to the bedroom... The buxom broad in black high heels, vintage girdle, garters attached to lace top, black back seam stockings over nude pantyhose, gets a covering of vet wrap over the fabric gag, a wide wrapping from nose to chin to keep her neighbours from hearing her pleas for help!
The robber wraps rope around chest, waist and arms, flinging the fine fettered form to the bed, ankles and thighs are then bound tightly. The curvy cutie in shapewear showing her hosiery clad ass and pussy as she wriggles and rolls in her restraints. Sandra's massive mammaries are treated to tight tit ties, turning the tremendous two into gorgeous globes for groping, nipples erect, the pert pair are pushed into the bed as the brutish burglar binds her shoes to her feet, turning her predicament into a hogtie. Her wide, pleading eyes are blindfolded with vet wrap, before he grabs the bag full of jewels and leaves her to struggle, as the sun sets on the New York skyline...