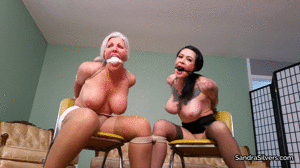 8:57 video
April 11, 2019
Bondage Orgasm Ordeal for Submissive MILF Duo, Chair Tied, Ball Gagged and Wanded! #BoundOrgasms #Vintage #Girdles #GiantGags
Curvaceous MILFs Sandra and Luna, dressed only in vintage shapewear, stockings and high heeled shoes – the silver haired stunner in white and dark haired vixen in black – are tightly tethered to two chairs, their legs linked together, wrists secured to the chair back forcing the fettered females forward for a great view of their bare breasts, and of the drool dribbling to the floor from the outfit matching, mouth-widening, jaw-extending ball gags forced between their teeth.
Their tormentor brings the sexy submissives a wand each, forcing them under their girdle-clad asses, to muffled squeals as the buzzing starts nuzzling at their clits! Imploring eyes bring him back. 'Phew!' they think, 'the forced orgasm ordeal is over with!' Yet he only turns the wicked wands up to their highest speed setting, the powerful pulses against their pussies intensifying the begging from the buxom broads, he helps by un-gagging the pleading pair to hear their begging cries...