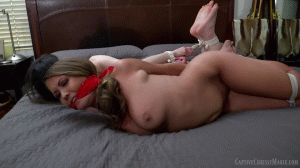 11:40 video
February 5, 2020
Chrissy Marie now has a FANTASTIC bondage website of her own. www.CaptiveChrissyMarie.com! It's full of really great bondage of Chrissy and all of her sexy friends. This video is just a sample of the wonder that awaits you there!
"Audrey and Chrissy are naked captives that are tightly hogtied and cleave gagged as they squirm and struggle on the bed trying to escape from the tight ropes. After a few minutes Audrey manages the get loose from her hogtie and uses her tied hands to untie Chrissy's hogtie. Then they help untie eachother's wrists but before they can finish their captor returns and catches them in the act! He promises they will pay for trying to escape!
Now the naked captives are both ballgagged and bound with their arms stretched overhead. As if that wasn't punishment enough they are both nipple clamped with the chains intertwined together. These are no ordinary nipple clamps… they are evil clover clamps that get even tighter when pulled on, something both girls quickly learn when they try to struggle which in turns painfully pulls on each other's clamps. You can see the fear and concern in their eyes as they realize there is no chance of escaping this time since their captor tied all the rope knots out of reach! They continue to struggle helplessly becoming more and more distressed by their torturous predicament. You can only imagine what their evil captor has planned for his naked captives next!"