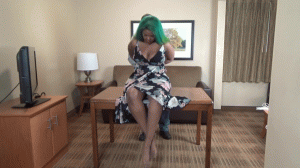 9:42 video
April 15, 2020
There's a new bondage site out there called www.BondageDownSouth.com and it is super-hot! Check out this guest video:
"Sexy ebony bondage/fetish enthusiest Sydney Cyntana wanted the BondageDownSouth experience. Who are we to say no! We love a good challenge and although Sydney has been around for a long time, she is a new face for us and we love putting newbies to us through the paces. So we decided to challenge this sexy ebony MILF and see just how tight she likes her bondage.

As Sydney sits on a table, dressed in flowery, narrow strap dress and wearing pantyhose, we begin her challenge. First her hands are tightly tied behid her back with rope. Next even more rope is used to secure a tight chest harness, pinning Sydney's arms to her side and making her large breasts stand out even more throughout dress. The harness is cinched tight to make sure Sydney knows we mean business.

With her hands tied tight and her arms pinned to her side with the chest harness, a big black ballgag is placed sercurely in Sydney's mouth. Silenced and with no hope of getting her hands and arms free, Sydney's challenge is starting to take shape. Once gagged we lay Sydney on her stomach on the table. Her nylon clad ankles are tightly tied together with rope, ensuring her helplessness.

Part 1 ends as we Sydney's ankles are bound tight. But we are not done with this lovely ebony vixen just yet..."