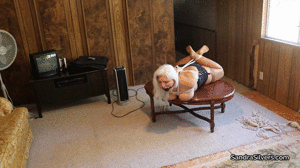 11:57 video
May 30, 2020
The Breaking In and Training of a Sex Slave - Table Tied, Taught Well, Eager to Deliver Oral Orgasms to Mistress!
Part 4 in a 4 Part Custom Video Series!
Sandra wriggles to test the ropes holding her. No escape. Naked but for open bottom girdle, garters and nude stockings framing her smooth skin and ample ass from her prone position, cross-legged hogtie a-top the coffee table, drooling on the carpet over the big black ball gag spreading her lips wide. Mistress Lisa, disappointed to find the TV is out again, decides to find something else to occupy herself with... Stretching out on the floor in front of her bound slave, handily the drool slides that giant gag nicely over Lisa's smooth pussy as she raises hips to press her clit into place. Roped but ready to ravish, Sandra sets to work licking her Mistress's clit once her gag has been removed. She knows well what is expected of her and chooses to please delivering orgasms with her tongue. Not one complaint passes her lips as they open wide to receive her gag back in after a sweet kiss between the two... A reward for such good behavior is soon given as Lisa's manicured finger tips find Sandra's clit to rub - well exposed in her open leg hogtie... Happy Mistress, happy slave!