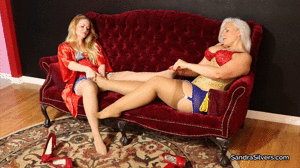 9:42 video
October 29, 2020
Super Heroines in Peril! Daring Damsels in a Capes and Corsets Swap Fighting Crime for Roped Struggles & Giant Ballgags!
HAPPY HALLOWEEN!!
It had been a long night of fighting crime, the city was safe – for now.
Wonder Sandra and Super Lisa convened back at their secret lair, a comfortable pad where the ladies of otherworldly powers met to relax and unwind with their gallant girlfriends… Reclining on a couch in corsets and cape the crusaders kick off their high heels for stocking-clad foot rubs, massaging away the perils that play havoc with such pretty pantyhose-d feet. The two kiss… reaching for golden ropes Wonder Woman submits to her super sexy lovers ideas… Even powerful heroines like to feel helpless at times ;-)
But wait - There's trouble! An alert siren sounds and Super Girl rushes to action … the intruders came well prepared with a green crystal of weakness jammed firmly between her jaw now both ladies are powerless to fight, and escape from the ropes binding them in such a predicament!