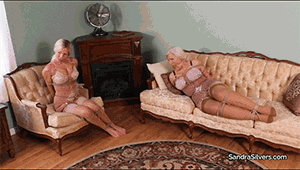 23 photos; 13:30 video
November 5, 2020
1950s MILF Pin Ups in Vintage Lace Girdles Bound, BallGagged and Robbed by their Photographer! Damsels in Distress Struggle to Escape!

The 1950s MILF girlfriends thought they were on set for some seemingly fun but innocent private photography work, but unfortunately for the pretty pin-ups, their photographer had other ideas. The scene opens up with both gals classically tied & ballgagged - sultry, silver haired Sandra on the couch, and blonde bombshell Amanda perched on the armchair - each wearing lace-bust vintage girdles, pantyhose and stockings. But during the set, after they were tightly trussed up, and the paparazzo had clicked the shutter on the perfectly poised pair, he disappeared into the changing room to grab their purses and clothes and leave with them… his intention all along to rob them! With no phone in sight the girls can only whimper & beg through their jaw achingly giant gags as the door slams shut behind the untrustworthy shutterbug, leaving them to struggle in their binds. The damsels must wriggle their way towards each other across the rug in an attempt to team up and set themselves free!