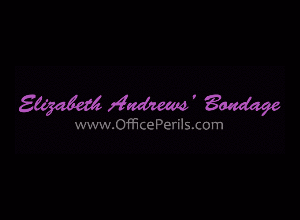 13:58 video
December 9, 2020
A guest video from the premier secretary bondage site www.OfficePerils.com comes the ultra-cute Elizabeth Andrews!
"It was right after lunch and I was sitting at my desk thinking about a conversation Hannah Perez and I had over lunch. She told me she was a latex virgin and had never tried any on. I was shocked because I thought all the secretaries would have worn latex at least once. I kept thinking about this and my mind wandered to a different place. One where Hannah was wearing tight shiny latex and bound helplessly beside me...



Hannah was in an office with Mr. Big Boss. She was wearing a black body suit with a matching mini skirt and a red waist cincher over top of it. The Boss was applying ropes to her arms as she giggled and carried on with him. He bound her elbows and wrists, looping the extra rope from her wrists around her forearms to cinch them tighter together. Hannah shimmed in her tight latex against the ropes. The Boss stood behind Hannah and gagged her with a leather bodybag gag. He moved to her ankles and tied them together.



After Mr. Big Boss was done with her ankles, I entered the picture. I was wearing a tight short transparent black dress. The dress was so short it barely covered my ass. My long pony tail whipped side to side as I walked over to where Hannah was standing. I rubbed my hands on her corseted waist. The Boss grabbed my wrists and started applying rope to my arms. He cinched my elbows tightly together before moving to my wrists. He picked up a big red ball gag and palmed it into my mouth. My jaws started to ache as they adjusted to the size of the ball. Mr. Big Boss moved down my legs and tied my ankles together, making me a little more unstable than I was before.



Both Hannah and I were tightly tied standing beside each other. We wiggled our asses in the tight latex and bondage. We giggled behind our gags as we rubbed up against each other. I hopped around Hannah, trying to tickle her with my bound hands. We rubbed our asses on each other as we struggled back to back. Drool strings were continuously flowing from my bottom lip. I tried to be careful and not drool on Hannah but I wasn't sure I succeeded. I bent over the counter, raising my hands high in the air behind me and showing off my ass. Hannah tried to tickle me but I rebounded quickly.She rubbed her hands over my ass and gave me a few smacks. I returned the favor. We continued to giggle and rub up on each other as Hannah lost her latex virginity."