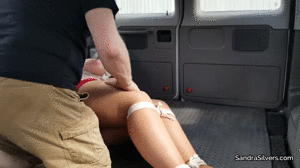 21:10 video
January 7, 2021
Sandra's Van Escape! Bound, Gagged & Hopped to an Awaiting Vehicle, our Satin Blouse Damsel Must Slip her Bonds while on the Road!

Working alone at a house real estate agent Sandra had been hoping for some drop-ins to tempt with this property full of potential. It had been a slow day so far, as the Country returns to normal after the virus pandemic, but the buyers are out there… finally a van pulls up in the vast yard and her first showing begins – not as she expects as it is her own ample assets this guy wants to inspect!

The unwitting realtor had been caught by surprise - bound and wrap gagged by the face masked brute - before she knew what was happening he was leading her by the elbows out the back door, hopping in pantyhose-d bare feet across the grass of the yard towards his waiting vehicle. The MILF's satin blouse had been busted open at the buttons; enormous breasts bouncing as she's hopped the distance from house to van. The engine starts and Sandra's straining with the struggle to stay upright secured in ropes, our damsel calls out through her gag to no avail, as the driver takes turn after turn on the country roads. As she rolls around restricted, she realizes she can reach a knot with her fingers, can she free herself to escape before he notices, or make a run for freedom as they arrive at their final destination?