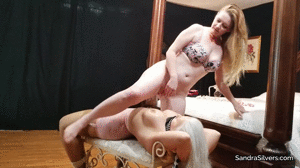 26:06 video
February 4, 2021
Lesbian Lover Lisa Mounts & Masturbates over Scissor Sister Sandra's Comely Captive Tits! A Custom Video!
Lisa arrives home from a long day, grabbing a glass of wine from the kitchen before heading to the bedroom, where Sandra lies - waiting for her hard working playmate - wearing pale pink girdle, garters and stockings. Sandra's had no choice but to wait… scarf gagged and spread out on a bench seat, arms held behind her head, with wrists and ankles tied to the metal frame in a reverse, modified hogtie position.
Lisa looks longingly at her lesbian lover as she strips down to bra and panties from her pencil skirt and blouse, slipping out of high heels and slipping off the silky fabric stifling Sandra's mouth to kiss her laid bare lesbian lover; and finds a tongue eager to be put to use against Lisa's shaved mound. Sandra's gorgeous globes of golden skin attract Lisa's attention next, rubbing her moist pussy against their soft skin and pointed nipples. Delicious Double Ds delivering clit tingling delights… Lisa pours lube into her palms to rub upon Sandra's boobs for a superior scissor sliding experience; Lisa mounts her bound girlfriend in reverse cowgirl style to reach peak pleasure in a loud orgasm as she masturbates herself, sharing pleasure as she reaches down to rub Sandra's spread pussy with her fingers. Sated, Lisa returns the scarf to its place over Sandra's lips and leaves, after pouring lube onto those comely captive tits, ready for a wonderfully wet breasts close up view!