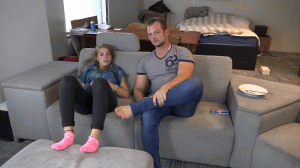 25:47 video
February 10, 2021
Are you interested in bondage with a European flair? Then check out the hot new site RestrictingRopes.com!!
In this video the beautiful Violet Haze is watching television on her own.

Till her step-brother Jeff comes in and starts switching channels they get a fight and Jeff gives up.

He comes back with some zip ties and start tying his sister up & Gags her with her socks and a piece of cloth to keep it in place. So he can watch his show.

After a while he replaces the cloth gag for a microfoam tape gag gropes her a little and unbuttons her blouse.
He puts her in a Hogziptie and leaves her to struggle.

After she had enough he releases her and asks her if she have learnt her lesson.