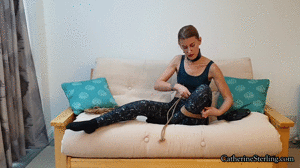 26:56 video
April 14, 2021

I'd like to introduce you to my very, VERY, special galpal, Catherine Sterling; a blond British bondagette who is needful of agony, a fan of flirtatious feet, a lover of socks and eager to be watched by you at CatherineSterling.com

Blonde Gym Bunny Collars & Harness Gags Herself for Lotus Tie Self Bondage Predicament! Toe Tied Sock Bondage!

Time to wind down after a workout - dressed in skintight leggings and sports bra cropped top that shows of my muscular abs on slender frame - my long blonde hair pulled back into a ponytail. I've got my self-bondage gear ready and waiting when I get home, and set up my mobile phone to record myself tying to watch back later, amateur in training here! I collar my neck with soft patent leather, and tie my legs into a frog-leg style, super tight lotus tie position, so the soles of my toe divider, black yoga socks are pressed firmly together. Adding more rope around my socked feet, I bind my arches together, adding a loop around each big toe so I am hobbled and toe tied! Now for my harness gag; placing the panel over my mouth I strap it in place around my face, securing the buckles all around my head till its nice and tight and only quiet little moans escape as I concentrate on the task of tying. Completing my sock bondage predicament with a length of rope through the collar's O-ring to the ropes binding each foot, pulling my body bent forward precariously over the edge of the futon sofabed, and tying my wrists behind my back to feel helpless. 26 minutes of uncut self bondage!