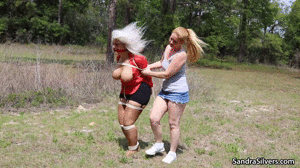 13:04 video
April 24, 2021
Outdoor Bondage Hopping & Hogtied Oral Sex as Estate Agent Sandra Stumbles upon Country Hideout of Lesbian Outlaw Lisa!

Out in the woods, the wind blowing, through her long silver hair, curvaceous estate agent Sandra surveys the grounds of a remote property. No chance to take notes on this quiet country pad though, as her hands are tied behind her back! The place was meant to be deserted, but Sandra had stumbled upon the hideout of notorious 'napper 'The Snatcher'… infamous for hijacking lone female travellers and encouraging them, with the help of ropes and rough instructions, to provide the lesbian outlaw with oral services!

The Snatcher hops Sandra across the scrub grass lawn, satin blouse busted open at the buttons to see beautiful big breasts bouncing free and high heels removed so as pantyhose-d soles bounce on the ground. Outdoor hopping is strenuous at any time, poor Sandra has ropes tying her from ankles to ample chest, hindering her progress, a bandana gag cleaved between her teeth muffle moans of exertion. Once they reach the picnic blanket The Snatcher – long-legged blond lesbian Lisa - has spread out ready for the eating she's about to enjoy, Sandra gets to lay down… but no rest for her, as Lisa turns her bondage into a strict hogtie! Slipping out of denim mini skirt to free her smooth shaven snatch, Lisa reclines on the blanket, ungagging struggling Sandra for a feast at her clit! Orgasm achieved, Lisa nonchalantly sparks up a cigarette before cleave gagging Sandra once again and leaving her to struggle.