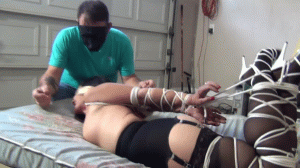 19:10 video
June 16, 2021

Have you seen MILFGigi's bondage site, www.MILFGigi.com yet? What are you waiting for?!
Go there now for lots of gorgeous Gigi and her girlfriends in tight, sexy bondage like this special guest update:
"I'm getting ready to go out still almost naked in my panties, garter belt, black stockings and high strappy heels. I pick up my dress when I am roughly grabbed by a masked intruder who over powers me with a big hand over mouth and his arm wrapped around my throat. I kick and struggle futilely grabbing at his arms, but my efforts are wasted as I feel myself slipping into darkness. I wake up blindfold and in pain. I've been massively hogtied on an old mattress with brutal rope crushing my elbows together. I feel the rope cutting deeply into the flesh from my upper arms down to my wrists. My arms are numb and the pain is unbearable. My crossed ankles are tighty bound together all the way up my legs and thighs. The bondage is horrifying and I sob and cry out, but no one hears me. Please! Please someone help me! I don't know how I got here or where I am and I am helpless and scared out of my mind. I begin to cry and I hear an unknown voice who silences me. He tells me I've been XXXX for slave traders looking for older woman to train the young females. This is bizarre and I beg for mercy. I am so confused and disoriented and I beg and please to be let go. I offer him money but he doesn't care at all and he gropes and roughly manhandles my bare tits smacking me across the face several times to reinforce his power. He puts his hairy huge hand over mouth and grabs and feels my pussy and ass. I scream, but no one can hear my cries for help. The burly man shoves a rag deeply into my mouth and wraps my head with many layers of duct tape muffling my sobs. I hear him leave and I begin to totally panic. I struggle on the mattress and try to twist and wriggle frantically, but every movement increases the pain as the ropes dig deeply into my flesh. After a long time I hear sounds I scream through the gag for help and I recognize my husband's voice. He ungags me and removes the blindfold and I realize I am in my own garage. How could you be so ruthless hiring that man to abuse me? I will never forgive you. He leaves my arms tied and drags me into the bedroom bending me over the bed to fuck me while I sob."
**OVER 14 MINUTES ELBOW TIED & HOGTIED**