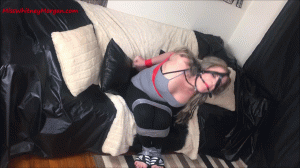 6:53 video
August 25, 2021
Whitney is a world-class all-genre fetish model. This video from her site www.MissWhitneyMorgan.com shows why!
"Miss Whitney Morgan was simply out for a light jog in her ADIDAS sandals, tight yoga pants, and plunging tank top... Soon she finds herself in a strange house, tied up tight with wrap after wrap after wrap of duct tape around her body... a ballgag harness secured tight around her head, muffling her mouth, dripping drool. She rolls around in an attempt to free herself - showing off her ass, feet, gagged mouth, tits bouncing.



Includes: bondage, bound, tape, duct tape, gagged, gagging, drooling, ass fetish, sandals, foot fetish, feet, toes, toe wiggling, foot bondage, bdsm, DiD, damsel, blonde, pov."