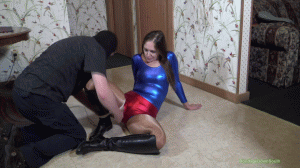 18:21 video
October 20, 2021
There's a new bondage site out there called www.BondageDownSouth.com and it is super-hot! Check out this guest video:
"This is the 4th installment of the Rachel Adams escape challenge series.

The 4th installment finds sexy Rachel breaking out her superheroine Ultra Girl persona for her escape challenge. Will this help her be successful? 1 small problem. Rachel(aka Ultra Girl) forgot her power belt. Soon she finds herself tied in a frog tie with her ankles tightly lashed to her thighs. Her wrists are tightly tied together and her elbows are crushed together with more rope. A big ball gag is secured tight in her mouth and Rachel is left to struggle to escape her bondage predicament.

Will her Ultra Girl persona help her escape?"