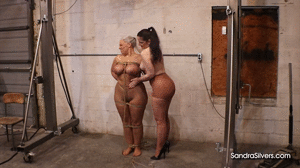 22:36 video
October 30, 2021
Brutal Boob Tie Suspension for Voluptuous MILF Sandra Silvers – Dangling Upside-Down Delivering Oral Pantyhose-d Pleasure to Caroline Pierce! Bonus – De-Roping Behind the Scenes Footage!
A Custom Video!

Stern and silent, Mistress Caroline Pierce pulls her curvaceous charge into the large warehouse towards the waiting workshop hoist framing the cold, concrete block walls. The busty MILF bound in biting ropes looks wide eyed at the steel to which she is led, pleading, but to no avail or answer. The two stunning women in sheer, shiny tanned pantyhose have their breasts bared, while Caroline's milky white pert pair are topped with chandelier piercings dripping jewels from her nipples, her slave Sandra's are adorned with hemp rope that hugs her huge tits tightly, surrounding each giant globe till her own nipples swell into sensitive buds. Caroline is well aware of these bountiful big boobs, taking their binding in her hands to keep control as a squeezing and a good groping of each glorious globe is administered… from standing in hosed bare feet to hanging upside down by her ankles Sandra's rough handling continues! Caroline adds more rope to the sexily swinging suspended Sandra Silvers, to teardrop her restrained lover in the air, dangling upside-down while delivering oral pleasure between Caroline's pantyhose-d pins! No wonder the pony tailed pair kept this an un-gagged bondage adventure, all the better for Sandra's tongue to do its work on the long legged lesbian!

BONUS – 10 minutes of untying the dangling damsel, from many wraps of rope that seem to coil still around Sandra's hourglass figure as their red loops are revealed one by one, as long lasting as Caroline's orgasmic afterglow.