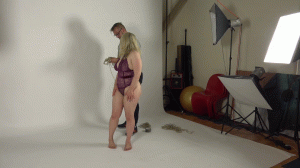 24:56 video
November 10, 2021
Are you interested in bondage with a European flair? Then check out the hot bondage site RestrictingRopes.com!!

" Jade is hired by Jeff for what supposed to be a lingerie shoot. She strikes a few poses and notices Jeff uses his phone to make pictures. Jade asks when Jeff grabs his professional camera to do the real shoot. He tells her that he has something else in mind for her. Jeff grabs ropes and starts tying her up. She gets confused and frustrated because she agreed to have nice pictures by a professional photographer. Jeff triples her rate if she agrees on this.

Jeff ties her wrists elbows and ankles. He stuffs a pink panty in her mouth and a wrap around clear tape gag to keep it in place. He takes a few more pictures and leaves her while he takes a little break inbetween sets. Jade struggles to get out of the ropes Jeff has put her in but it is impossible to get out.

When Jeff returns for the last photo set he adds a few layers vet wrap to keep her gag even better in place and hogties her. Jeff takes the last pictures to complete his set and leaves her. Jade can't even move in the strict hogtie Jeff has put her in but she tries..

But it is futile she is never going to escape this without Jeff his help... "