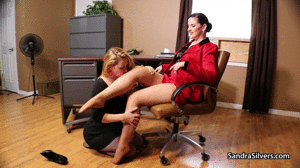 25:36 video
November 25, 2021
I LOVE PANTYHOSE! Nylon Worship of Luscious Legs as Satin Secretary Surprises her Office Co-Workers with Bondage in the Board Room!

Lisa is up for promotion at Pretty Pantyhose Co. and her boss Caroline is making sure her secretary's passion for the position matches the company's motto: "I love pantyhose!" Lisa declares with vigor as she kneels on the floor in front of her black haired boss, worshipping the fine hose clad legs of superior standing. As Caroline slips off her stilettos, power suit skirt riding up in her seat, she sets Lisa a challenge the blonde pantyhose progressive can't wait to attempt… Tying up and gagging her manager! Lisa has lashed those tempting, nylon sheathed legs with white cotton rope around ankles and knees, with Caroline's wrists behind her back and a tape gag keeping protestations muffled, as her now bound boss struggles on the hard wood floor… as her paperwork quite literally piles up around her!
Lisa's not done for the day, now the upstart assistant has a taste for tying up her co-workers and revealing the darker toned tops of their pantyhose-ed posteriors. Silver haired MILF office manager Sandra is next - her low cut V-neck sweater dress over tanned, silky sheer hose and copious curves of her hourglass figure - is startled at the door and left bound on the floor by Lisa 'I Love Pantyhose' Harlotte! Demanding Department Head Constance struts through but won't accept excuses for the day's reports being late…
Constance can't believe it; she has to do all the work around here! Sitting at her desk and kicking off her high heels to have a moment of respite before chasing up yet more reports, she spies an interloper under her desk, right by her vulnerable bare feet! It's Lisa hiding, and she can't contain her love for bondage AND pantyhose combined, the pins of the petite executive are next to get roped, now three hosed hotties are held at her whim, Lisa's forgotten all about work for the day, burying herself under pantyhose instead of paperwork and reports!