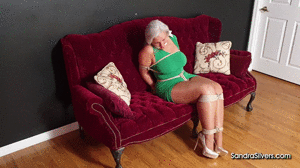 14:27 video
December 11, 2021
Bound MILF Sandra's Huge Breasts are Exposed and her Mouth Well-Stuffed under a See-Thru Tegaderm Gag!


Her harasser unseen hiding in the bushes, Sandra had returned from a Christmas party, key just sliding into her front door lock, when a hand appeared from the dark and clamped firmly over her red lips. The muscular frame behind her maneuvered her inside her home keeping that handed clamped firmly over her mouth…
Now Sandra could hear the distant noises of her home being ransacked, drawers rummaged through, as she was helplessly tied up on her red velvet couch. A square of cloth had been cleaved between her clenched teeth, her wrists behind her back. As she tests the ropes around her limbs she hears footsteps coming closer… He is back and she pleads to him to let her go… But the busty MILF has taken his eye and he wants a better look… Now the silver haired stunner struggles still, with her bountiful breasts bared from under her Kelly green clubwear! The mini dress, already riding up due to the cruel ropes at her pantyhose covered crotch, pulled down by the guy holding her, and her cleave gag now stuffed well into the corners of her mouth, filling up her cheeks, with a see through Tegaderm Band-Aid sealing in the stuffing! As the door to her home slams shut, the burglar pleased with his haul – and his view – the disrobed damsel daringly ups her struggles to try shake off the binds of hemp rope around her hourglass frame to alert the cops!