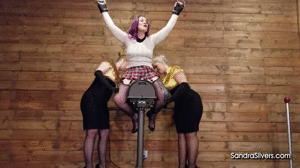 15:11 video
February 26, 2022
Stern Supervisor's Suspension of Sorority Sister over a Sybian! Sandra Silvers & Lisa Harlotte Teach Bratty Whitney Morgan a Lesson - in Bondage Orgasms!


Whitney did not pay attention in college classes. The cute co-ed had plenty of potential, but her MILFy schoolmarms Sandra and Lisa struggled to keep her focus on the classroom task at hand. The academy headmaster had decreed a term suspension would be in order if they could not regain control of the bratty student… So the pencil skirted pair devised a plan to remove all distractions – save for one – that would leave Whitney dangling from their every word next session.
We join Whitney in detention, suspended indeed, dangling high above the ground by her wrists buckled into leather palm-grip cuffs. Her full weight is pressing onto just one point; her pussy. Straddling a Sybian device mounted upon a pole, no matter how much the student struggles she can't shift herself from sitting her clit on the sturdy vibrator. Sorority supervisors strut into the scene - Ms. Silvers and Ms. Harlotte in matching gold satin blouses, waist cinching corsets, opera gloves, and stilettos – here to ensure Whitney's attention will not stray from what they have to teach her, starting with tickling! With each tickle the troublesome totty turns up the volume on her squeals, joined by buzzing from the Sybian, and Whitney's un-gagged bondage orgasms get SUPER loud as we watch from the auditorium!