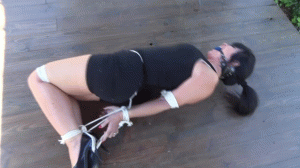 13:17 video
March 9, 2022

Have you seen MILFGigi's bondage site, www.MILFGigi.com yet? What are you waiting for?!
Go there now for lots of gorgeous Gigi and her girlfriends in tight, sexy bondage like this special guest update:
"I'm vacationing in Spain with my beautiful Hungarian friend Lena King. We've rented a villa in the mountains for a week of peace and quiet. While out wandering the property I was ambushed and left brutally hogtied on a wooden platform. I struggle and try to scream through my gagged mouth but the sounds are muted. Suddenly I hear Lena calling my name and I grunt loudly to try to warn her of the dangerous man. She rushes rushes over to help me and as she leans over me to untie the knots she is roughly grabbed by the intruder and he wrestles her down with his hand over mouth to prevent her from screaming. He ties up her arms behind her back and begins to grope her gorgeous body. Lena's ass is exposed and he takes pleasure in smacking it then shoves a big ballgag between her teeth. He bends her boots up to her ass and ties her crossed ankles. Lena cries as he finishes her off in a tight hogtie. He leaves us bound, gagged & helpless, sobbing and struggling side by side .... "