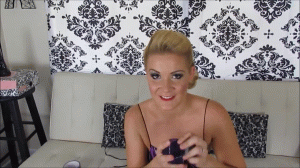 8:00 video
May 18, 2022
Whitney is a world-class all-genre fetish model. This video from her site www.MissWhitneyMorgan.com shows why!
"Miss Whitney Morgan absolutely LOVES the smell of her own feet - it's even better when she's been wearing THICK knee high socks under boots to a nightclub.. oooh think of the sweat and foot funk soaking up in those socks!! With one deep sniff on each socked foot - Whitney promptly shoves one in her mouth to GAG herself! Taping her mouth shut to keep it in. The TOE TYING herself, cuffing her ankles, and finishing off with a good hog-cuff through her wrists!! Shes struggles in a combination of pleasure and exhaustion."



Includes: leggings, leather, feet, toes, foot, fetish, soles, smelling, stinky, socks, sweat, toetie, anklecuffs, handcuffs, duct tape, tape, gag, gagging, mouth packing, arches, hogcuffed, struggling, blonde.