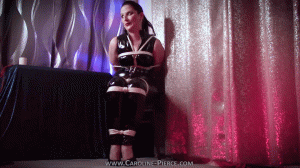 8:13 video
May 25, 2022
Caroline has a new website www.Caroline-Pierce.com! It full of super-sexy fetish fun like like this sample. Head over ther now!!

"Taking Care of the Competition. You laid a trap and you caught that annoying Master Thief Caroline. She's always one-upping you! She got better plans and pulls them off without a hitch.
BUT, she wasn't planning on you laying a trap for her. She figured you'd be on her side since you to are colleagues of sorts. She was wrong!
Now you have her tied up and she is trying her hardest to negotiate with you! She sure does talk a lot. You better fix that

- her flirty pleading that turns to insults when being nice doesn't work ✓ Check.

- you shutting Caroline up by gagging her and showing her you're in charge here ✓ Check

- Caroline getting angry and indignant and insulting again ✓ Check

- you gagging her even more and she finally shuts up, kind of ✓ Check"