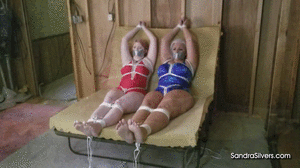 12:18 video
June 2, 2022
Barefoot, Buxom, Bathing Suited Bedmates Bound by Brute – for Bondage Tickling!


Sandra and Ami were enjoying a 4th July weekend away. The pair of red and blue swimsuit-clad lovers holed up in a motel in the middle of nowhere for some uninterrupted girls' time, finished up lounging by the pool, hot and exhausted from the unrelenting sun, the bathing suited beauties headed back towards their room, cool air conditioning and a queen size bed beckoning the barefoot girlfriends… Instead of falling into each other's arms as they intended upon walking through their door, they were seized by the butch biceps of a brute in a black shirt who had been watching in wait at their poolside antics!

Taken to who knows where, the two have been tied to a fold-a-bed frame, arms above their heads exposing armpits, spandex suited bodies stretched in a semi-seated position ropes highlighting buxom chests. Fettered feet side by side and tied just over the bottom edge of the bed, making sensitive soles particularly vulnerable. Both Sandra's silver haired and Ami's copper-tone head have been silenced by crisscrossed strips of duct tape. The unknown brute has a particular fetish for tickling; feeling flinches and struggles at his fingertips as they delve into sensitive body parts. The reaction he gets is immediate - and loud - but that only makes him tickle harder!