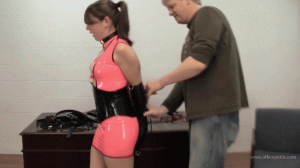 14:37 video
June 8, 2022
A guest video from the premier secretary bondage site www.OfficePerils.com comes the ultra-cute Elizabeth Andrews!
" I walk into Mr. Big Boss' office wearing a tight pink latex dress that buckles up the front, exposing parts of my breasts. My waist is pulled in tightly with a black latex waist cincher. My boots make hard clicking noises as I walk across the the hard wood office floor towards his desk. I'm preoccupied with my cell phone. I've been texting with clients all day and apparently Mr. Big Boss has been trying to get in touch with me. He is not very fond of waiting on his secretaries. I try to explain to him that this is a big business deal for us but he doesn't understand why I won't do business the traditional way. I tell him he is too old fashioned and he needs to get with today's technology. That doesn't matter to him. I continue to text with the client while the Boss straps a collar around my neck. Knowing that I would soon, lose my hands, I place my phone down on his desk. He picks up a ledermeister armbinder and my arms are soon encased in the soft leather. He cinches the strings tight, forcing my elbows closer together. I complain as my bondage gets tighter and more difficult to deal with.



The boss is deaf to my complaints. He straps my booted ankles together . The leather straps squeak against my leather boots as he pulls the strap tight. He moves up to my knees and straps them together, making it difficult for me to balance. I continue to ask him to stop as he applies straps above and below my breasts, and then another one around my waist. The additional straps have pinned my arms down and made everything tighter. Tired of my whining and complaining the Boss gags me with a panel head harness gag. He straps the buckles tight and then lays me down on the floor.



There, on the floor, he pulls my ankles to the upper body straps, placing me in a very uncomfortable hogtie. He places the phone near my head and tells me I can continue texting with clients, now. I struggle on the floor, trying to get from side to side. The tight leather straps prevent me from freely moving as I would like. I moan and whine behind the panel head harness that fills my mouth. My boots squeak against the leather straps. I start to enjoy the bondage that the Boss has put me into. If I'm going to get in trouble for doing my job ... it should be something enjoyable... "