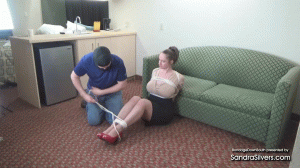 19:49 video
May 12, 2023
The former producers of BondageDownSouth have entered into an agreement to make SandraSilvers.com the EXCLUSIVE place to find their videos! More and more will be added as time goes on and all are, and will be, included here at NO EXTRA CHARGE for members!


The lovely and adorable Pepper Sterling wanted to be a BondageDownSouth girl so she was brought in and put through the paces. Who are we to turn down a sexy lady looking for our best treatment?

As we begin, pepper sits on her knees. Wearing a skirt, blouse, pantyhose and high heels Pepper's hands have been tied tight behind her back. A chest harness is added, helping to pull her arms tight to her body and also tp help accentuate the huge rack that Pepper sports.

Pepper is then moved to the floor. Her ankles are tightly tied together. A double ring gag is placed in her mouth forcing the sexy damsel into an open mouth position. Rope is soon added just above her knees, adding to the tight bondage for Pepper. Pepper is then rolled over onto her stomach.

Papper soon finds herself in a tight hogtie, on the floor, with no chance of escape. We leave her to struggle. And struggle she does. But unfortunately for her she is helpless, defenseless and has no chance to escape, no matter how hard she struggles. But it's certainly fin to weatch her.

This tough damsel struggles so much and so hard that her skirt ends up around her waist. Of course we're not complaining as this gives us a nice view of her pantyhose covered ass.

After watching her struggles for a while, it's time to add to Pepper's peril. Her ample, luscious breasts are pulled from her blouse, leaving those huge tits exposed for us all to enjoy. I slap her huge breasts a few times and then steal her high heels and leave her to struggle.