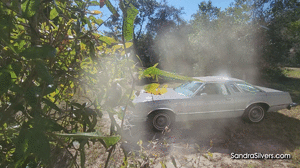 12:13 video
May 27, 2023
Bound, Gagged, Transported in Car Trunk, Tasty Chocolate Totty Victoria Ransom is Over-Shoulder Carried & Pole Tied in 1970s Trailer! Part 1 of a 2-part Sandra Silvers P.I. Installment

A long sedan comes to a stop; a shiny Thunderbird with power under its hood and a spacious interior. With the engine switched off, the faint muffled pleas emanating from the rear of the car can be more easily noticed. The driver places a key in the lock and raises the trunk lid to inspect his cargo. Before him lies a slender-figured, black girl, struggling in a flimsy sundress against her confinement. Wide eyes blink in the sudden sunlight, over a red bandanna cleavegag tied tightly over her ebony hair. This helpless hostage tightly tied in the trunk get's a fireman's lift, over broad shoulders of this brooding brute in cable-knit wool sweater, as she is transported in an over-the-shoulder carry towards a trailer home. She's tied up, thoroughly fettered by five point column tie to the room divider kitchen pole of this 1970s singlewide. She tries her best to struggle for escape to no avail. He visually inspects the product. The Boss will be happy. He can charge a premium for this one.

Continued soon in Part Two as Busty MILF Private Investigator Sandra Silvers discovers the stolen lass; can the pair escape!?