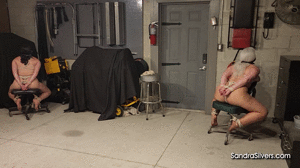 14:05 video
June 1, 2023
Two Titanic Titted MILFs Kept by Crazy Couple, Chair-Tied, Coerced to Kiss in Hooded Bondage – Heads Taped Together! Part 3 of 4

Shapely MILF Sandra Silvers & curvy Cuban Gia Love were being stalked by a crazy couple, who figured if they nabbed one at a time they'd never get the chance to get away... So scheming husband and wife decide to grab the titanic titted duo on the same day. One rainy morning when leaving for their work day the couple had struck…

Their ordeal had gone on for an undeterminable length of time. Exhaused, compliant, naked but for pantyhose, Sandra and Gia rest in opposite corners of the garage they are being held in. Arms tied behind their backs, ankles to the swivel seats, their bare toes point an agonizing number of inches from the floor. Even in rest their muscles must work at this chair tie predicament, tits thrust over the chair backs uncomfortably. Enter the husband and wife holding the titanically titted twosome, together they push the bound pair into the center of the room. Blond Wifey Lisa coerces lesbian kisses, making eyes at her guy as her hands press Sandra and Gia's feces - and lips - together. He decides to keep them that way till they learn to like it… using tape he vetwraps both heads into a lip locked, wrap gag and hooded bondage predicament and leaves the pair to it!