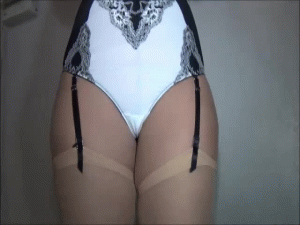 21:53 video
August 16, 2023

Have you seen MILF Gigi's bondage site, www.MILFGigi.com yet? What are you waiting for?!
Go there now for lots of gorgeous Gigi and her girlfriends in tight, sexy bondage like this special guest update:

" I really want to excite my husband and haven't learned my lesson from my previous experience of self bondage where a burglar surprised me tightly tied and he manhandled and robbed me. I am daydeaming about trying another kinky self bondage to surprise him when he gets home from a long day of work. I go into the garage and remove my dress revealing a sexy satin panty garter and stockings and strappy stiletto high heels. I unclasp the matching bra and begin my self bondage seduction. I strap a huge red bag gag deeply into my mouth and apply many layers of silver duct tape over it. Hmmmm - he always loves to see my tits with painful clover nipple clamps. I'm getting excited anticipating his response when he sees me like this!! What a night we will have. I handcuff myself in front and loop my handcuffed hands to a chain high over head. I hold the handcuff keys in my hand just in case and wait for my husband. The phone rings and I hear him leave a message that he is bringing his boss Alexandria Star for dinner. Oh no!!!! All my efforts ruined by that big titted bitch. I try hard to manuever the key into the handcuffs, but I am not having success. Finally I find the hole but before the handcuffs unlock I fumble with the keys and they land on the floor by my feet. I struggle and begin to panic … trying to get to the keys using my feet … it's futile!!! I am XXXX to wait like this humiliated at my half naked situation until Jim and Alexandria get here. They are surprised to discover my arms chained over my head to the ceiling. They ungag me and I sob and try to convince them that I've been overpowered by a robber and manhandled. They accuse me of doing this to myself inn order to get out of making them dinner. They laugh at me and tell me it is because I'm jealous of Alexandria!!! Jim shoves the huge ball gag back into my mouth and wraps layer up layer upon layer of the silver duct tape around my head. I'm drooling like a pig through the tape and sobbing uncontrolably. He crosses my ankles crushing my legs together and brutally binds my entire crossed legs from ankles to thighs. I struggle to remain upright and my legs begin to shake from the hard tight bondage. He jacks up the overhead chain XXXX my shackled wrists even higher over my head stretching me out so painfully. I can hardly balance in this precarious bondage position. They leave me like this to suffer while they go out on the town!!! I am shaking so much that the chains clang. This is horrible and I can hardly maintain my balance. I try to wiggle the clover nipple clamps off, but they remain cruelly attached to my aching nipples. My shoulders are crying out in pain and my legs have gone numb. The two of them return several hours later - both a bit XXXX and obviously enjoying my predicament. They go off to fuck while I am left in the garage listening to their lusty load moans and sounds of pleasure. Now I am both humiliated and jealous!!! "