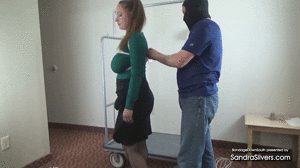 38:50 video
September 15, 2023
The former producers of BondageDownSouth have entered into an agreement to make SandraSilvers.com the EXCLUSIVE place to find their videos! More and more will be added as time goes on and all Bondage Down South updates are, and will be, a BONUS for our members, at NO EXTRA CHARGE!


All 3 parts of this epic bondage video brought to you in one full length viewing! Sexy Pepper Sterling wanted the BondageDownSouth experience. She also made some statements she wishes she had never said. " I like tight bondage predicaments and I've never done any luggage cart bondage" are statements Pepper surely regrets making when talking about shooting with us. Using a damsel's own words against her in bondage is a very satisfying thing, especially when it is Pepper Sterling and it includes tight bondage predicaments. What's the old saying, be careful what you wish for? Wearing a skirt, blouse, black fishnet pantyhose and high heels sexy Pepper soon found herself regretting her words. First a tight chest harness is put in place. Pepper is then placed on her knees on the luggage cart. The chest harness is tied off to the back of the luggage cart. Her ankles are then tied tightly and her hands tied tight behind her back. A rope is then tied to her ankles, cinched, and then tied to the top of the luggage cart pulling her ankles off the ground forcing Pepper to balance on her knees. A sponge is then packed into her mouth with microfoam tape wrapped tightly around her head to keep the sponge in place and Pepper quiet. This is only the beginning for Pepper, as her ordeal and predicament will become tougher as this multipart series continues...

Sexy pepper Sterling's predicament and peril continue to intensify in part 2 of her bondage challenge. Pepper made the mistake of telling us that she loves predicament bondage and that she had never done sny bondage using a luggage cart. Well, we can't turn down a challenge. Pepper has already been tied to the luggage cart and has been made to balance on her knees when her ankles were tied off to the cart. Now, the sexy buxom damsel has her supple and ample breasts exposed and tightly bound in rope. Next her hands and arms are pulled up into a modified chicken wing and tied off to the back of the luggage cart. As if the predicamament hadn't worsened for the sexy Pepper, we then apply some nipple clamps to her nippples in order to add a little pain to her predicament. To make things worse, twine is then tied to the nipple clamps and then pulled tight and tied off to the luggage cart in order to put some additional strain and pain on Pepper's nipples.

Sexy Pepper Sterling's bondage predicament continues in part 3; Pepper has been trussed up to a luggage cart after telling us that she like tight, tough bondage and that she has never done any luggage cart bondage. She is struggling to balance on her knees with her ankles pulled up and tied off to the luggage cart. Her supple and ample breasts have been bound tight with nipple clamps placed on her nipples and tied off to the cart as well. Her arms have been pulled up into a modified strappado and her mouth has been packed with sponges before being sealed tight with microfoam tape. To finish off her predicament, a hair tie is added. A rope is tied to her ponytail and pulled tight and tied off to the top of the luggae cart giving Pepper a nice hair tie to compliment the rest of her predicament. Totally helpless and defenseless Pepper is a perfect target for some torment. I slapped her ample breasts about with those sensitive nipples just for the sheer pleasure of knowing she can do nothering about it. Pepper wanted tight, tough bondage with a luggage care. So I was happy to give her a wonderfully tough and painful predicament.